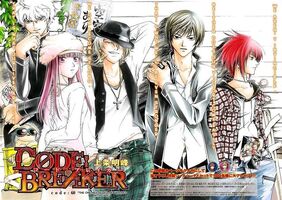 This is a list of all the characters in the Code: Breaker Universe.
Main CharactersEdit
Founders:Edit
Emperor
Sakuraouji Sakurako
Masaomi Heike
Unknown (for now)
Management: Edit
Fujiwara's dad
Code: NumbersEdit
Former: Ex-01 Hitomi, Nenene Fujiwara
Current:
The Ace
(Unknown)
Yuuki Tenpouin
(Defected)
Rui Hachiouji
(Defected)
Code: NamesEdit
Former: Emperor, Seeker
Current: Saechika Hachiouji (Closer), Takatsu Aoba (Revenger), Shigure, masked man
The One Being Sought
Main members:Edit
Yukihina
Kouji
Rui Hachiouji
Hiyori
Uesugi Hajime
Divisional Members:Edit
Lily
Sendou Ryuuichi
Ryuji Ryuuichi
Supporting CastsEdit
Sakurakouji Goutoku
Sakurakouji Yuki
Kanda
Haruto
"Shibuya" aka Student Council President
Inoichi
Minor CharactersEdit
Ad blocker interference detected!
Wikia is a free-to-use site that makes money from advertising. We have a modified experience for viewers using ad blockers

Wikia is not accessible if you've made further modifications. Remove the custom ad blocker rule(s) and the page will load as expected.